1) Save the date! History Conference, April 21-22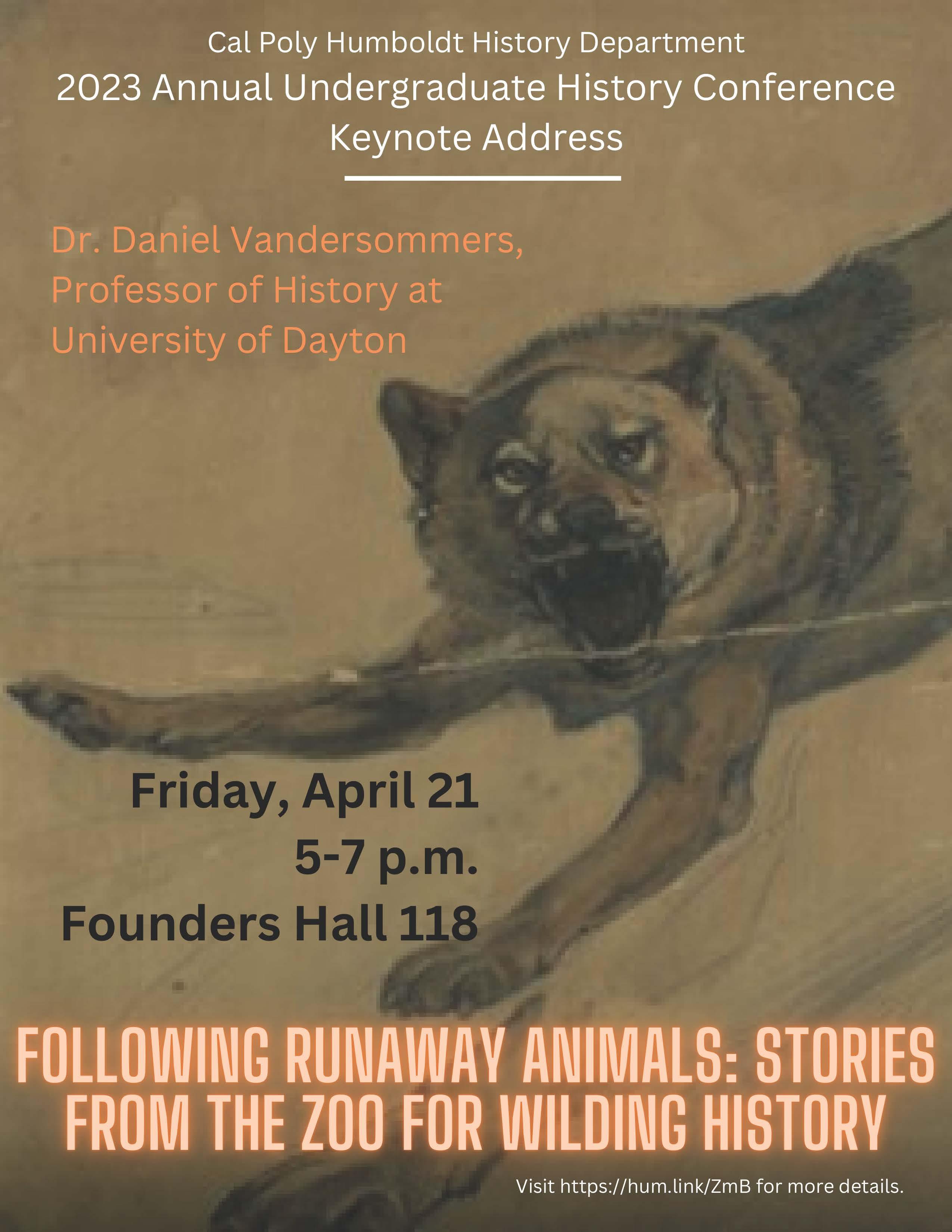 The History Department at Cal Poly Humboldt is excited to host Dr. Daniel Vandersommers, one of the pioneers in the new field of Zoo Studies, as a keynote speaker for the annual Student History Conference. What is Zoo Studies? "Zoo studies considers the modern zoo from a range of approaches and disciplines, united in a desire to blur the boundaries between human and nonhuman animals."

Dr. Vandersommers is an assistant professor of environmental history at the University of Dayton. His research combines environmental history, animal studies, science studies, and posthumanism. Vandersommers is currently at work on two projects: a study of how racial violence shaped zoological thought and vice versa; and a history of veterinary medicine and its influences on human medicine. Finally, he is planning a book on the global history of goldfish.

See the above flyer for details about the keynote address on Friday, April 21. On Saturday, April 22, students will present their research projects in Founders Hall 232 from 9 a.m.-3:30 p.m. A copy of the conference program will be circulated soon. This event is open to Cal Poly Humboldt students, faculty, staff and the community. 
2) Governor's Office internship
The Office of Governor Gavin Newsom, Northern California External Affairs is seeking two interns for the Summer of 2023 to provide detail-oriented support to the NorCal External Affairs office. The ideal candidate possesses strong written and verbal communication skills, attention to detail, a positive attitude, and a commitment to public service. Email
histdept@humboldt.edu
for a copy of the position description. Applications are due April 28.
3) CCAT Co-Directors sought
There will be a live informational session about these positions on Instagram April 12 at 5 p.m.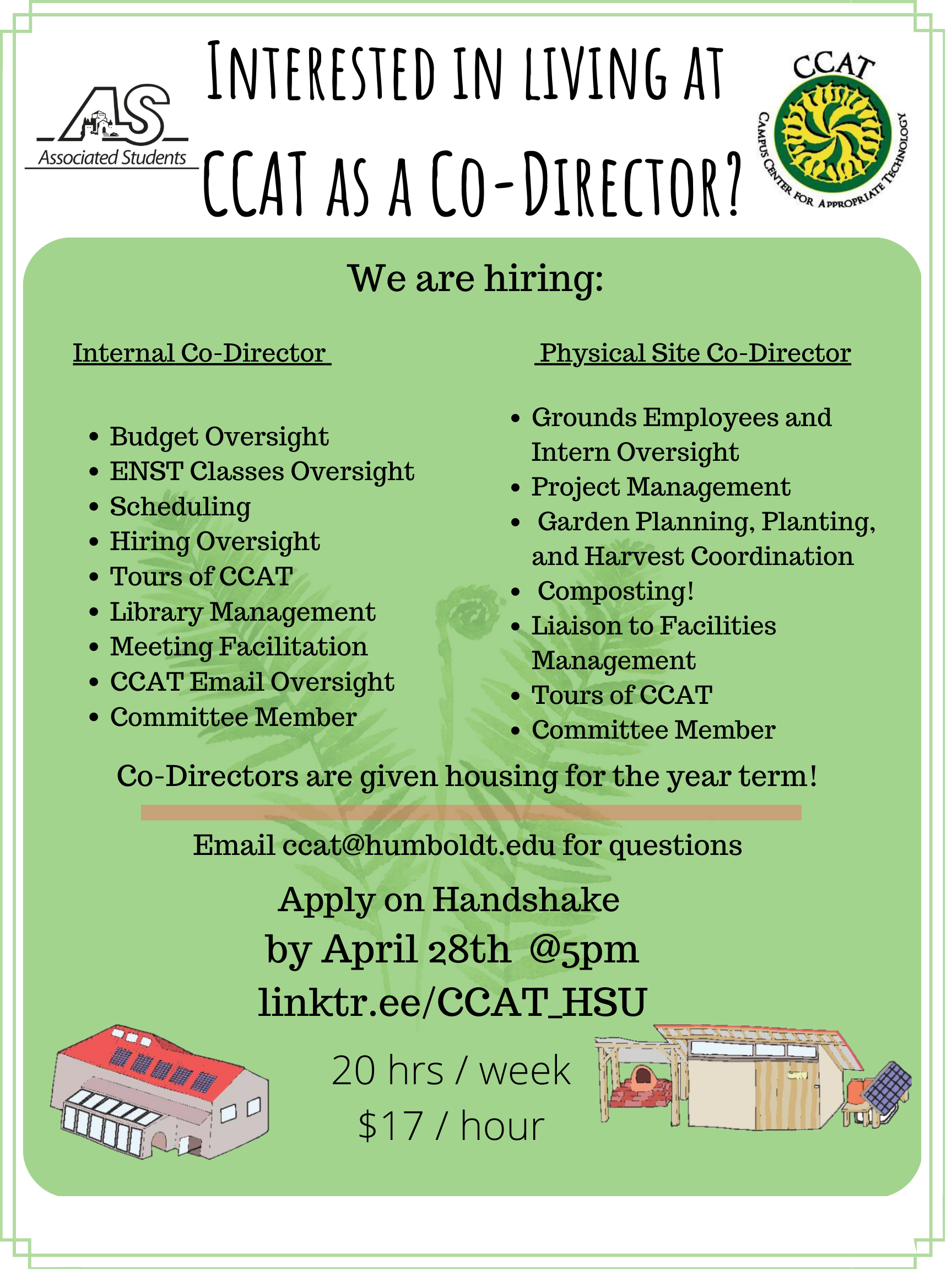 4) "Humboldt Housing: Now and in the Future," April 17
OLLI Brown Bag Lunch Online Presentation (via Zoom) with Andrew Whitney of the Humboldt County Planning & Building Department. Andrew will explore the existing housing conditions in Humboldt County, providing context on jurisdictional planning efforts, local agency, developer, and non-profit organization involvement. Recent changes to California State housing law will be discussed. With this context established, the presentation will detail current efforts to increase the number of housing units available in Humboldt County, and the projects and programs to increase the quality and availability of housing in the county. The presentation will conclude with a look at demographic trends in the Humboldt County and housing's role in environmental sustainability. Learn more or join via Zoom 
here
.
5) Learning Center Positions
The Learning Center is now hiring! We have about 30 positions open in all of our peer-to-peer support programs as well as for our front desk. Contact the Learning Center at learning@humboldt.edu with any questions.
Tutor, Writing Consultant, & Supplemental Instruction (SI) Leader Positions

- $16.20 an hour
- Up to 20 hours a week
Student Reception Assistants
- $15.50 an hour
- Federal Work-Study helpful
- Up to 20 hours a week
Advertising & Social Media Student Assistant
- Wages based on experience  
More details and application information may be found 
here
.
REMINDERS

Free History writing tutors
The History Department is offering FREE WRITING TUTORS to any student enrolled in a History class! Writing 
Tutors can assist with crafting a thesis, proofreading, choosing correct grammar, and understanding how to effectively structure an essay, research paper, slideshow, or any other writing assignment. 
Reach out today to one of our Certified Writing Aces (not a real thing, but it sounds impressive), Dakota Adelmann (
dma89@humboldt.edu
) and Ian Jones (
ij17@humboldt.edu
)! Please contact them directly to make an appointment.