1) History Conference, April 21-22
The History Department at Cal Poly Humboldt is excited to host Dr. Daniel Vandersommers, one of the pioneers in the new field of Zoo Studies, as a keynote speaker for the annual Student History Conference. Dr. Vandersommers is an assistant professor of environmental history at the University of Dayton. His research combines environmental history, animal studies, science studies, and posthumanism. (More details 
here
.) See the below flyer for details about the keynote address on Friday, April 21 (*NOTE: The room has been changed to FH 118). On Saturday, April 22, students will present their research projects in Founders Hall 232 from 9 a.m.-3:30 p.m. See attached for a copy of the conference program. This event is open to Cal Poly Humboldt students, faculty, staff and the community.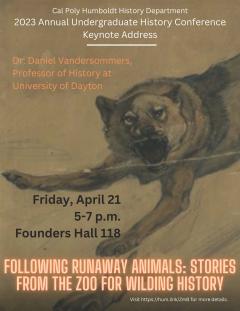 2) "History of Cannabis Policy in the U.S., 1930s to Present," April 20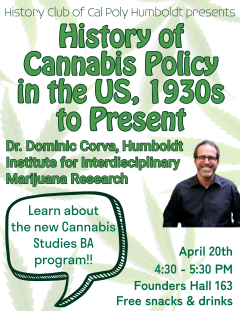 3) History Club officer nominations for 2023-24
Hello everyone! The time has come for nominations for next year's Officer positions. Linked 
here
 is a Google Form that will allow you to nominate individuals you believe will make the best officers for the club. Add their email addresses, as we will then email nominees to see if they want to accept their nominations. When voting, please make sure to do your nominations in order of Officer position, or mention the position you are nominating the individual for in the third question. THIS WILL HELP US WHEN COLLECTING THE NOMINATIONS!
1. President
2. Vice President
3. Treasurer
4. Secretary
Nominations will begin Mon. 17 April and end on Tues. 25 April.
Officer Election poll will be sent out on Wed. 26 April.
Election results will be announced on Mon. 1 May, and the Fri. 5 May meeting of the History Club will be mandatory for all members and anyone who has been nominated for an officer position, as we will celebrate the new officers.


4) PSCI 413/414 Moot Court courses - great training for law school!
In Fall 2023, the Department of Politics will once again be offering Moot Court, and now in a two-class format: PSCI 413 Moot Court and PSCI 414 Moot Court Competition. There is a listed prerequisite. However, if you would like to take the class, but have not taken either of the prerequisite classes, please email me (Dr. Joice Chang; jyc85@humboldt.edu) and express your interest, and I can give you a permission number to add the course. 
For Political Science majors, this class will fulfill the experiential requirement for the major. 
Here is a link to a championship round of the American Moot Court Association national tournament
.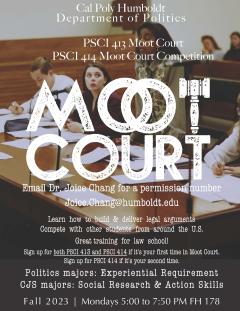 5) Campus Earth Week events
Celebrate Earth Week 2023 by attending a wide array of Cal Poly Humboldt events hosted by numerous partners! Food, DIY, plants, and more! See the full calendar of activities 
here
. Some featured events: 
Sustainable Transportation Scavenger Hunt. A fun way to get familiar with transportation resources on campus! Win prizes. See the attached flyer. 
Celebration & Social Mixer at Septentrio. April 19. There will be free food and drink tickets available on a first come first served basis, live music, and tents and indoor options to protect from inclement weather. There are no age restrictions for this event.
Ecochallenge.

Ecochallenge is a 21-day digital program that welcomes individuals to have a positive

impact

on the environment through fun challenges that encourage new habits.

Sign up

to participate on team Cal Poly Humboldt and help make a d

ifference. (We are competing against CSU Channel Islands!)
6) College of Arts, Humanities & Social Sciences newsletter
Anthropology Research Symposium, April 20

Toyon Multilingual Literary Magazine launch party, April 20

10th annual Hip Hop Conference: 50 Years of Hip Hop, April 20-22

Philosophy Forum keynote by intersectional environmentalist Pattie Gonia, April 26
7) Two talks related to the history of mathematics and science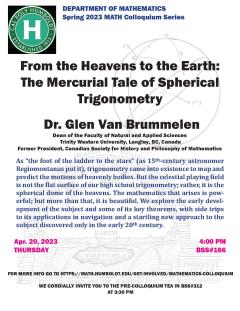 8) Environmental History Week
Environmental History Week is an international celebration of environmental history, organized by environmental historians of all stripes to foster scholarly collaboration, teaching and public engagement with environmental history. Organized by the American Society for Environmental History, with the support of the American Historical Association and National Endowment for the Humanities. Check out the calendar of presentations 
here
 (green or orange events are virtual or hybrid, respectively). 
9) Beyond Humboldt Skillshops
The Academic and Career Advising Center (ACAC) is pleased to be offering a series of upcoming skillshops to help prepare students for life and career beyond Cal Poly Humboldt:  
10) CCAT cap and gown rentals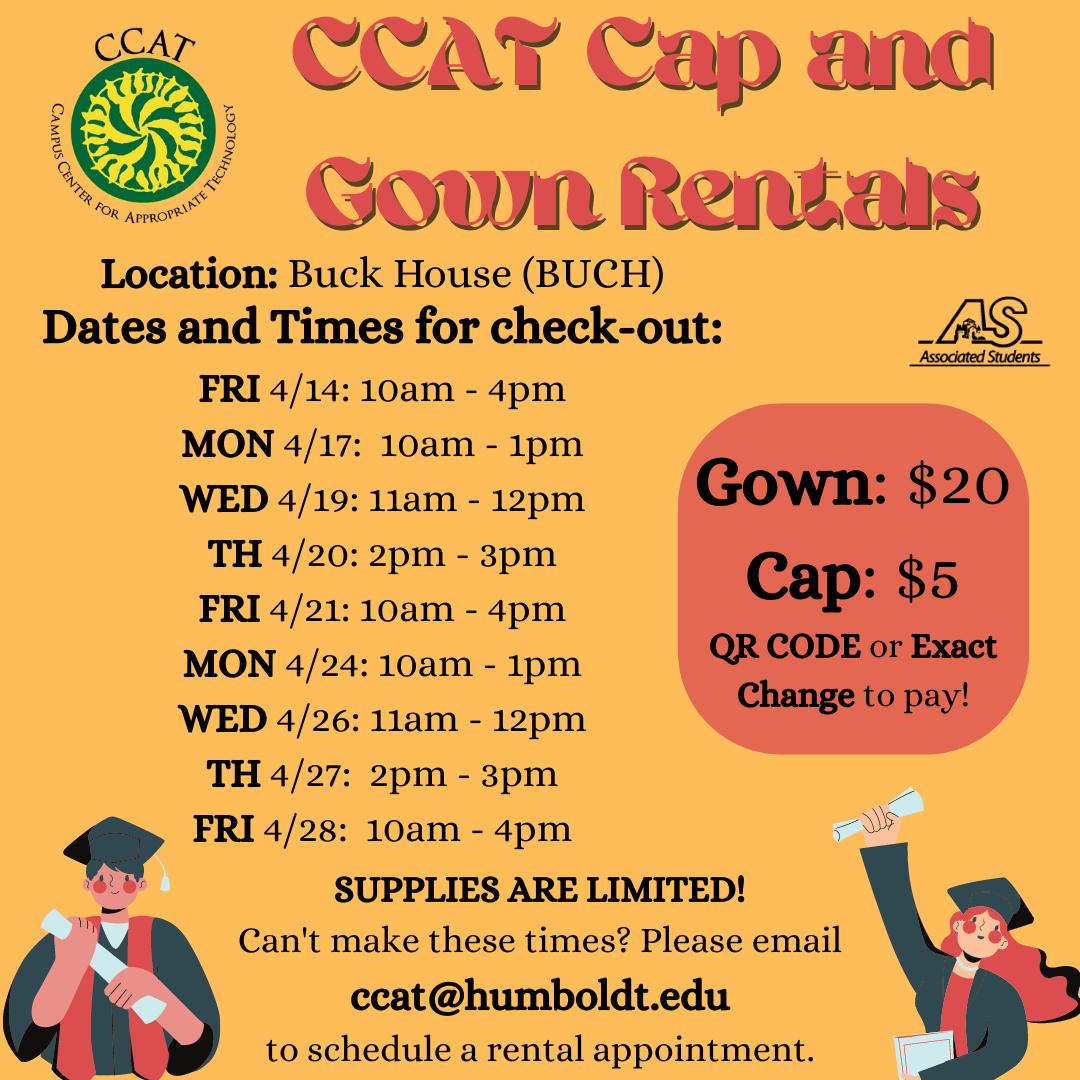 11) On-campus visit from Coalition for Humane Immigrant Rights of Los Angeles
The 
Coalition for Humane Immigrant Rights of Los Angeles
, also known as CHIRLA, will be having an on-campus visit next week. Through their time at Cal Poly Humboldt, they will be offering in-person consultations to anyone interested. These consultations will take place Thursday, April 20, and Friday, April 21, from 1:30-5 p.m. at the Hadley House #56. If you are interested and wish to schedule a consultation, call the EOP Front Desk at (707) 826-4781.
Apart from consultations they will also be offering an
 Information Session on Friday, April 21st @ 9 a.m. at Siemens Hall 117
. So if you are interested in learning about CHIRLA and/or have any comments, questions, or concerns this is definitely a great opportunity.  Persons who wish to request disability-related accommodations should contact Tania at (707) 826-5190, or email at 
tem21@humboldt.edu
 as soon as possible.
REMINDERS
Barnum History Contest, deadline May 1
Active link 
here
.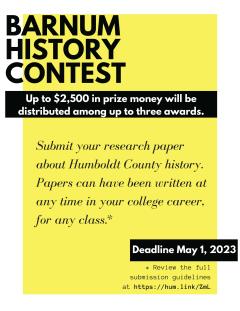 Free History writing tutors
The History Department is offering FREE WRITING TUTORS to any student enrolled in a History class! Writing 
Tutors can assist with crafting a thesis, proofreading, choosing correct grammar, and understanding how to effectively structure an essay, research paper, slideshow, or any other writing assignment. 
Reach out today to one of our Certified Writing Aces (not a real thing, but it sounds impressive), Dakota Adelmann (
dma89@humboldt.edu
) and Ian Jones (
ij17@humboldt.edu
)! Please contact them directly to make an appointment.